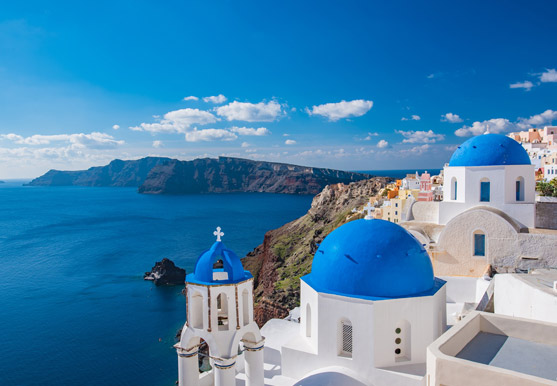 Known also as the Cycladic gem, Santorini is an island of sheer beauty and tranquil ambiance. Thousands swarm to one of the most celebrated Greek destinations. The narrow cobbled streets and the whitewashed houses with its sleek and curvy lines offer a reposing backdrop. The bougainvilleas that lean over the windows fill the air with a nostalgic whiff. The volcanic landscape unfolds, showcasing the crescent-shaped caldera and the mysterious volcano. The beaches encompass all that otherworldly charm. The Red Beach and its sister beach, namely the White Beach are excellent representatives of the volcanic forging powers.  

Santorini is also a destination for all shopping enthusiasts. International and local brands dot the alleys conveniently, housed in small edifices. The capital of the island brims with an astonishing array of shops but the rest of the villages have a quite vibrant market. Elegant dresses, whimsical accessories and fine pieces of jewelry are on display while you can browse the variety of souvenir stands and peer in small-paned windows for countless hours. 

During your stay on the island, you can engage in many excursions that take you to the volcano and the surrounding islets. Scuba diving lessons and water-based activities are also available to have an unforgettable experience while visiting this landmark island.

Imerovigli Santorini 84700 Greece
T. +30 22860 24142-28825 F. +30 22860 28826
E.
info@ilioperato.com
MHTE: 1167K050A0183000