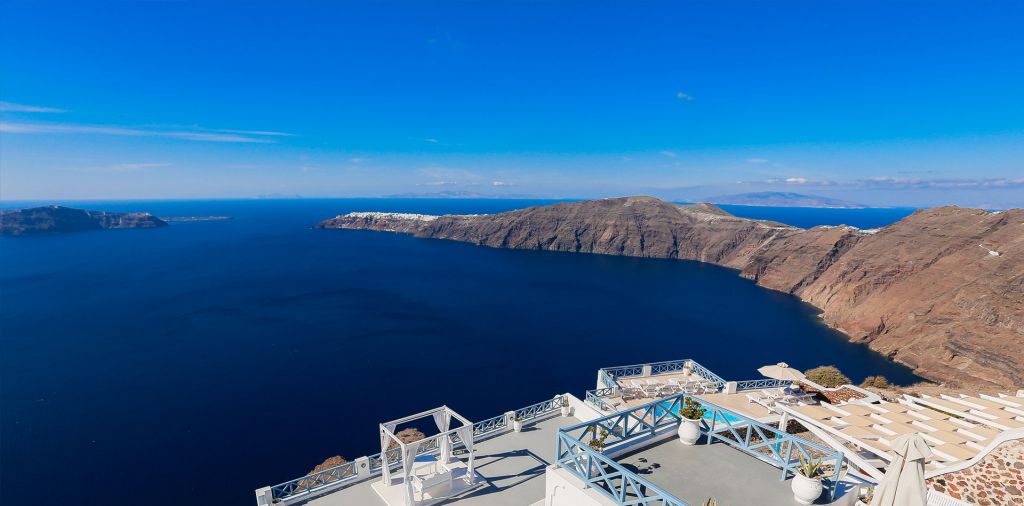 Location
Arguably the most tranquil settlement of Santorini, the village of Imerovigli brims with its quaint ambiance, showcased in the cube-like whitewashed edifices. It is situated only two (2) kilometers away from the capital, namely Fira. The cobble-stoned alleys overrun the village offering romantic corners to its visitors. Watching the celestial wonderland during evening's golden hour is bliss. 

In front of Imerovigli lies the imposing rock, called Skaros. It used to host a castle but after the earthquake, only the rock stands tall til today. Beautiful chapels and churches are also found aplenty in the region.

The village features a wide range of cafes and restaurants where you can relish local delicacies and refreshing tipples, gazing out the stunning view. There also all sorts of amenities such as supermarkets and grocery shops.

Our premises lay approximately twelve (12) kilometers away from the port and eight (8) kilometers away from the airport. 

Upon request, we transfer you to and from the airport/port.

Imerovigli Santorini 84700 Greece
T. +30 22860 24142-28825 F. +30 22860 28826
E.
info@ilioperato.com
MHTE: 1167K050A0183000